Please note that all of the service prices listed are starting prices and subject to go up. Please consult with your stylist with any questions about pricing.
First CurlyCut-
$160-$225
Curly Cut.
$135-$225
Kids (5 under)
$100 - $135
Curly Girl How-To
$60 - $85
Curly Girl How-To Plus - w/ diffuse
$85 - $125
Blow Dry
$60 - $100
Diffuse
$60 - $100
Single Process
$75 - $100
Ammonia Free Single Process
$95 - $115
Multi-Dimensional Single Process
$100 - $135
Partial Highlight
$125 - $175
Full Highlight
$175 - $250
Pintura Highlighting
$200 - $275
Rezolites
$200-$275
Ombre/Balayage
$145 - $290
Toner/Glaze
$35
Keratin Treatment
$450
Extensions Removal
$125
Extensions Installation
$125
Special Occasion Hair and Makeup Services
Traditional Makeup
$75
Trial Makeup
$100
Airbrush Makeup
$90
Trial Airbrush Application
$120
Individual Lash Application
$30
Lash Strip Application
$20
Updo
$95
Trial Updo
$120
Style
$60
Ask about our on-location services for your special event!
K18 Treatment
$65
Clarifying Treatment
$35
Clear Gloss
$35
Curl Bond Repair
$75
Dry Scalp Treatment
$35
Exfoliating Scrub Treatment
$35
Milbon Treatment (includes home care ampules)
$50
Malibu C Makeover Treatment
$75
Miracle Repair Wellness Reconstruct Treatment Muti-mask Treatment
$35
Single Mask Treatment
$35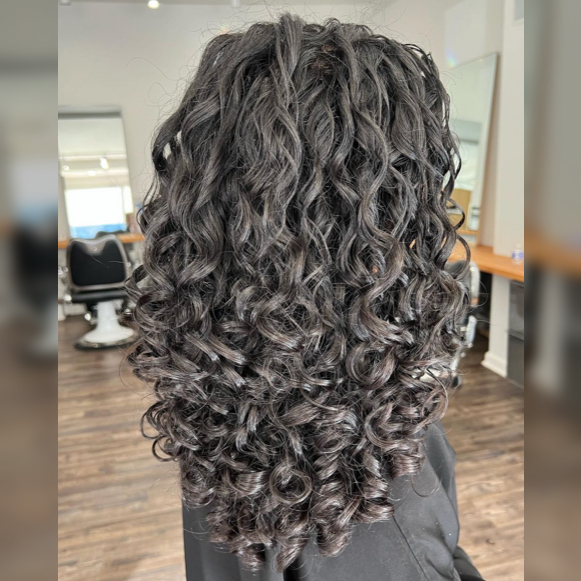 Curly Cut
We offer three revolutionary dry cutting techniques designed for curls, waves and all natural textures. The following haircuts fall under the category of curly cuts: Curl by Curl, Rezo Cut and Deva Cut. Each stylist adds their unique twist to every cut, offering our guests variety. Hair is sculpted, while dry, in its natural state, then washed and styled according to your lifestyle, personality and preferences, using our curated selection of curly hair products.
This service also includes a curl coaching session and a personalized product regimen that makes it easy to maintain your style at home. First time curly cuts and those who haven't had a haircut in a year or over, are priced higher than follow-up cuts. For a description of the curly cuts provided, please go to our F.A.Q. page.
Pintura ("to paint")
This award-winning technique was designed to add gorgeous, light-reflecting highlights to curls. Pintura Highlighting offers the perfect harmony and balance to curls giving brilliance and dimension to perfectly compliment your Curly Cut.
Rezolites
Rezolites are a combination of woven highlights and balayage for a highlight effect that is both noticeable and low maintenance with a seamless grow out. This highlight technique works for all textures and densities including straight hair because it is fully customizable.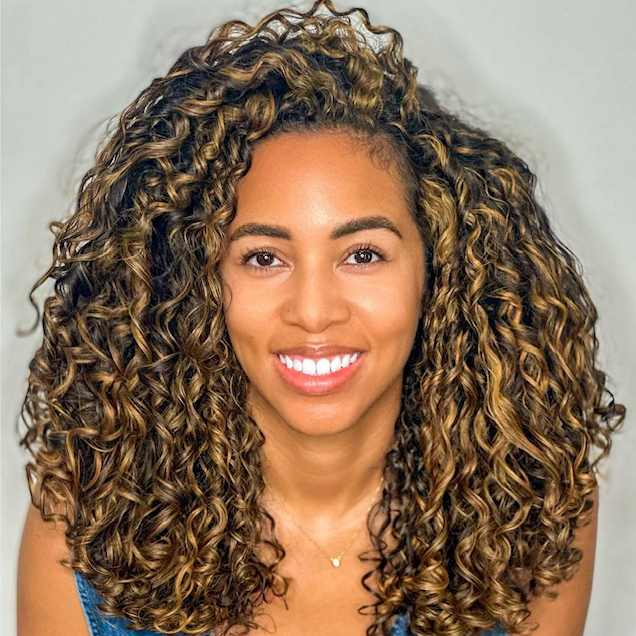 Curly Girl How-To
Let's just show you how to do it! This one-hour, one-on-one, just-for you session will teach you how to embrace and care for your curls at home. Learn how to wash and go, still revealing your naturally gorgeous, frizz-free curls. Together, we cleanse, condition, and apply the perfect product. Then, you'll sit under a hooded dryer, to mimic letting your hair air-dry. You'll also receive numerous styling options and drying tips to fit your lifestyle.
This is perfect for those who want to embrace their curls, and learn the fundamentals of daily curl care.
BTW gentlemen, the Curly Girl Method applies to you too!
Curly Girl How-To PLUS (aka 'everything but the cut')
This luxurious process includes everything in the original How-To but adds some luxe - we begin with a healthy botanical cleanse followed by a thorough conditioning and detangling treatment. Next, your stylist will shape your curls to meet your needs, suit your lifestyle and satisfy your personal preference. You'll leave with all the tips you need to maintain your curly look!
BTW gentlemen, the Curly Girl Method applies to you too!
Single or Multi-Mask, Deep Moisture Treatment
Chose one (or two) of our hydrating masks, to bring strength, shine, moisture and softness to your curls. All of the masks are customized based on what your curls need. It's the essential therapeutic remedy for dry, color-treated or damaged hair. Undo the damage, tame the frizz, and discover beautiful, bouncy curls.
Clarifying Cleanse (aka Final Cleanse)
When your curls need a refresh, we know just the thing! Whether you've been using silicone based products aka not water-soluble products, or have other chemical like chlorine building-up (or just need a thorough cleanse), this is just what the doctor ordered! Follow with a deep mask, a cool rinse and a diffuse or take a nap under the hooded dryer. Reveal your curls potential!
All of our treatments can be enhanced with steam or heat, depending on the one selected. These treatments do not include a blow dry or diffuse and can be added to any service, if notice is given. Please talk to a stylist about which one is right for you!